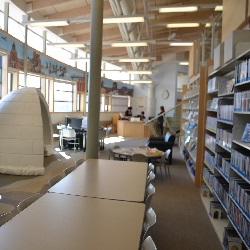 Hours:
Mon. to Fri. 10am-Noon & 1pm-3:30pm
Mon. to Fri. (After School Program) 3:30pm-4:30pm
Sat. Closed, Sun. Closed
Staff:
Librarians: Pam Langan, Leggie Cristobal
Community
The regional centre for the Kitikmeot, Cambridge Bay is a centre for business in western Nunavut. The people in the community are active in business and government, catering to tourists visiting the area for fishing and outdoor experiences and exploration companies working on Victoria Island.
The Inuktitut name for Cambridge Bay is Iqaluktuuttiaq, which translates to "a good place with lots of fish"; outstanding fishing can be experienced in the lakes and rivers of the area. (~Government of Nunavut)
Contact
May Hakongak Community Library
P.O. Box 1106, Cambridge Bay, NU, X0B 0C0
Ph: 867-983-2163 Fax: 867-983-3397
e-mail: