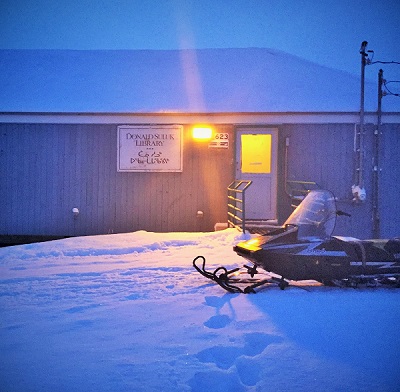 Hours:
Mon. & Wed. & Fri. 3pm-8pm, Tues. & Thurs. 10am-12pm & 3pm-8pm, Sat. 1pm-4pm, Sun. Closed
Staff:
Librarian: Sarah Voisey
Community
The name "Arviat" comes from arviq, the Inuktitut name for bowhead whale. The community is located on the western shore of Hudson Bay, north of Churchill, Manitoba. Arviat's lands and waters are rich in wildlife. The McConnell River Migratory Bird Sanctuary, south of town, is a great place to observe thousands of nesting waterfowl. In the fall, beluga whales are frequently seen in the bays around town and caribou are often spotted near the community.
Arviat is a diverse community where traditional knowledge and values are maintained in harmony with practical economic development. The Inuktitut language remains very strong among residents. Through projects, such as a video to promote tourism, and an arts and craft centre for export of Inuit art, Arviat residents use their cultural strengths to develop the local economy. (~Government of Nunavut)
Contact
Donald Suluk Library
P.O. Box 4000, Arviat, NU, X0C 0E0
Ph: 867-857-2579 Fax: 867-857-4048
e-mail: